What are a few things you want to let kids know?
I was bullied when I was eight years old.  I didn't tell anyone and by the time my mom discovered it I was having stomach spasms, panic attacks and was diagnosed as clinically depressed.  I took anti-depressants for a year.  It was a difficult time.  But nearly 8 years later, I can say with confidence that is so important to tell someone when you are being bullied.  Like me, you may fear things will get worse if you tell a parent or a teacher.  But the truth is, it will not get better if no one knows.  There are people in your school who are committed to keeping you safe.  Go to your favorite teacher or counselor and tell them your story and ask them for help.  You are not alone. A teen is bullied every 7 seconds and kids as young as seven are self-harming.  I also encourage young people to look up and around during the school day. Look for kids who are playing alone on the playground or sitting by themselves at lunch.  Search out kids who need a kind word and speak to them.  Invite someone to a party that never gets invited.  Sent a text to someone you know who is struggling and offer encouragement.  I ask that you make a commitment to do one kind act every day.  If you do, I promise you we can make the world a better place.
Between changing legislation, #bekindpaducah mural, Inside Out Project, Paducah Kindness Color Walk, etc. What have you done that you think has made the most difference?  And why?
When I was feeling my most afraid, my mom came to me with a proposal.  She told me bad things are going to happen and that we can ignore what happened, we can blame others, or we can be a part of making a positive difference.  She helped me find my voice and see that I can use it to make a positive difference.  We started the Guess Anti-Bullying Foundation and began by bringing speakers to our schools.  We also brought Bully movie director Lee Hirsch to our town for a free screening and bought their educational toolkits to any school who would use them.  We host a Kindness Walk at the start of each school year and had nearly 2000 participants this Fall.   We are also working on our second kindness mural and are helping a neighboring community who recently experienced a school shooting unveil their own kindness mural.  We are proud of all of our work but nothing has as far-reaching impact as our commitment to define bullying in Kentucky.  Our governor appointed me to a statewide task force to study the issue and after a year I was able to testify to the legislature.  We were one of only two states who didn't have a formal definition for bullying.  When I was bullied my school system used the legal definition for harassment. That definition is 211 words.  I fought for a 26-word definition that says:  "bullying means any unwanted verbal, physical, or social behavior among students that involves a real or perceived power imbalance and is repeated or has the potential to be repeated." I believe this single action by our legislature has made the greatest difference. It provides protection and a pathway for 640,000 Kentucky public school students to be helped.  It lets students know someone hears them, believes them, and will help them.
What are you most proud of?
I am not sure I can pick one thing.  I am enormously proud of the bullying definition that was passed by our legislature.  I am also just so grateful and proud of the journey I have been on for 8 years.  I have the opportunity to lift up my voice when others can't find their own and make a difference for them. I am able to share my story so others find the courage to tell theirs.  I have confidence in myself now and know that I can stand up for myself and others. I am also proud of my school and community for standing with me and supporting all of my work.  I have learned that one person can make a difference but when we work together, we can change the world.
What do you think is most challenging about "changing behaviors and attitudes as it relates to creating a kinder culture."
I believe the greatest challenge is convincing young people in the power of their own voices.  If we choose to speak up when we are bullied or if we see someone being bullied, statistics show it stops that behavior in less than 10 seconds most of the time.  We must begin to stand up to the cruelty we see around us.  The single action of speaking up can have the greatest impact on creating kinder schools and communities.  I encourage you to simply look the bully in the eye and say "Stop that," Don't talk to me that way," or "Leave me alone."  Maintain eye contact and be firm in your statement.  I also encourage students to tell a teacher, a parent, or a friend.  We must create school cultures where students support one another.  I also believe we need to support those who are being unkind.  There is an opportunity to learn more about what is causing their behavior and to help them become better citizens.  We are a generation of change makers and we have the chance to advance a culture of kindness. I hope you will join me.
What do you hope to accomplish as you head to college and beyond?
Because of my experiences, I am interested in neuroscience and mental health.  I am committed to helping those suffering with anxiety, depression, and self-harm.  I am also interested in politics.  I had a positive experience working with the Kentucky legislature.  Democrats and Republicans supported me and stood together and with me to make sure we passed a bill that would protect students in my state.  I want to do more in Kentucky and across the nation and public service provides an opportunity to have far-reaching and lasting impact.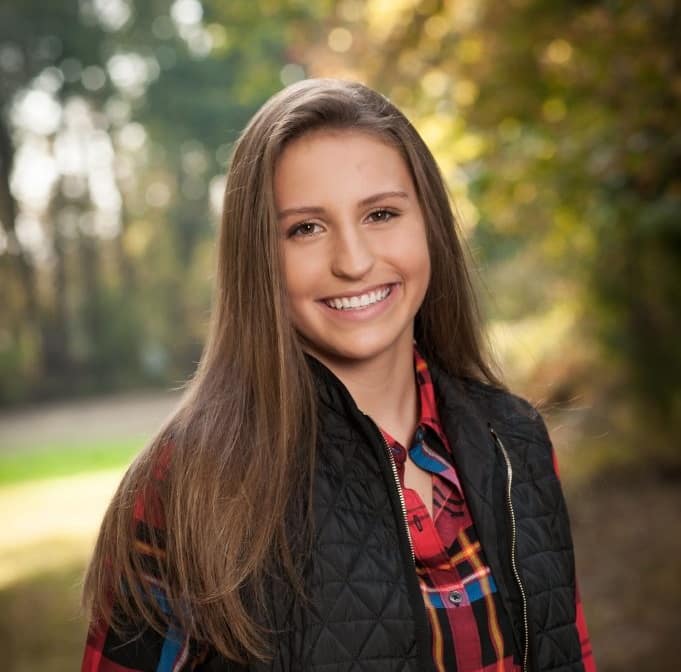 About Morgan Guess
Morgan has served on the Kentucky Governor's Task Force for Bullying and testified in front of the state legislature to support a bill that redefined bullying to better protect Kentucky public school students. She has been named one of Hasbro's 10 Community Action Heroes.