When:
January 30, 2015 @ 1:15 pm
2015-01-30T13:15:00-06:00
2015-01-30T13:45:00-06:00
Where:
Paducah Middle School
342 Lone Oak Road
Paducah, KY 42001
USA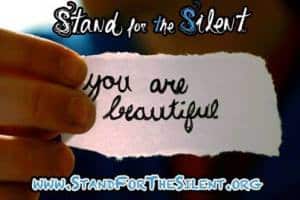 Founder of "Stand for the Silent" to Speak to Local Students
Paducah, KY – The Guess Anti-Bullying Foundation will host Kirk Smalley, founder of "Stand for the Silent," in Paducah on January 30. Smalley will speak with students at Lone Oak Middle School at 7:30 a.m. and at Paducah Middle School at 1:15 p.m. about the dangers of bullying and ways they can prevent it.
Kirk and his wife Laura began their crusade to end bullying in 2010 after the loss of their 11-year-old son, Richard Ty Field, to suicide as a result of relentless bullying. "One month and seven days after Ty died, I promised him that I will stop bullying in this world," Smalley says. "I don't break promises to my kid."
Since then, they have committed themselves to speaking out against bullying at over 1,000 schools and community organizations, reaching over 1 million youths and adults in 39 states and 16 countries. In March 2011, Kirk and Laura met privately with President Obama and First Lady Michelle Obama in The White House prior to attending the first ever White House conference on bullying.
Their story is also featured in the documentary "Bully," directed by Lee Hirsch. The Guess Anti-Bullying Foundation, founded by Susan and Morgan Guess, won a free screening of the movie through a social media contest three years ago and brought Hirsch to Paducah for the screening as well.
"Hirsch's movie and the stories told in it have been a significant source of inspiration for us," according to Susan. "The message of hope is the common thread in his movie and in our work. Despite how serious the issue is and how many kids suffer in silence, we believe this message of hope and communities coming together will change this culture of cruelty."
Morgan and Susan buy "Bully" movie educational toolkits for any school in Kentucky who will use them.
"Having people like Mr. Smalley and Mr. Hirsch come talk to kids about bullying can make a big difference in our schools," says 11-year-old Morgan Guess. "Kids need to hear about the pain that their words and actions can cause others. It can mean life or death and can affect someone's entire life. We can no longer remain silent when we see bullying.  We have to raise our voices, and when we do it together, we will make a difference."
"It takes a lot of strength, takes a lot of courage to stand up for what's right," Smalley says. "I'm impressed with what Morgan has been able to overcome and accomplish at her age – having been bullied herself. I'm excited to meet her."
This year, 13 million kids will be bullied across our country, and 160,000 kids will skip school each day because they are afraid of their bully. A teenager is bullied every seven seconds, and one out of every ten high school dropouts cites bullying as their reason for leaving school. Bullying has been shown to be a significant factor in teen suicide attempts. The percentage of Kentucky teens who attempt suicide each year exceeds the national average. Kids as young as seven-years-old are now self-harming. The Kennedy Center has declared bullying to be a human rights issue.